Back in September I had the opportunity to talk content with Anthony Pensabene or you might know him better as Content Muse. Anthony's tweets and blog posts continually inspire me with examples on how to use social media to build real connections and communicate with a network of people online. This post is just 1 example of how he has done it.
How To Use Social Media To Your Advantage
I love this tweet where Anthony shares his philosophy on how to really use social media to your advantage. I  could not have phrased it any better.
"How do I use social media to my advantage?" You don't. You use it to communicate with your market. Listening is the advantage

— Anthony Pensabene (@content_muse) September 28, 2012
Example Of Communicating To Your Market
I experienced first hand an example of Anthony "effectively communicating with his market" when he thanked all the people that RT'd one of his blog posts. At first it looks like a simple Thank You tweet, but knowing Anthony the link intrigued me so I had to click it.
@scott_dodge @thegonzoseo @juliejoyce @explorionary @madeale @onreact_com @zen2seo @ben_beck @rootswebsol bit.ly/RtYj83 🙂

— Anthony Pensabene (@content_muse) October 9, 2012
The link contained this animated gif: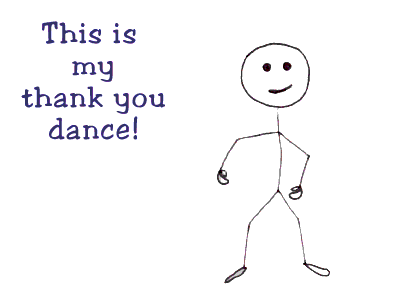 How The Group Responded
By the time that I got around to checking my Twitter feed it was already filled with lots of responses from  the other great marketers mentioned.  My favorite response was this one by Chris Dyson.
@thegonzoseo @content_muse @scott_dodge @juliejoyce @explorionary @madeale @onreact_com @zen2seo @ben_beck ¯_(ツ)_/¯

— Chris Dyson (@RootsWebSol) October 9, 2012
Conclusion
A lot of times I find myself looking at the size of someones social media  following to determine how important, knowledgeable,  or influential they are, but I appreciate people in the online marketing community who are showing me that  the quality is much more important then quantity. 
How do you connect with your network? Look forward to reading them in the comments.